This section helps you change the two system settings of your PicoPix Micro 2TV (the Android TV system and the projector system). In this article, we will focus on the projector settings. Please read this article for the Android TV settings.
Projector system settings
Press the projector/input button on your remote control to access your projector system settings options. Then, use the Navigation and OK buttons to select and change settings.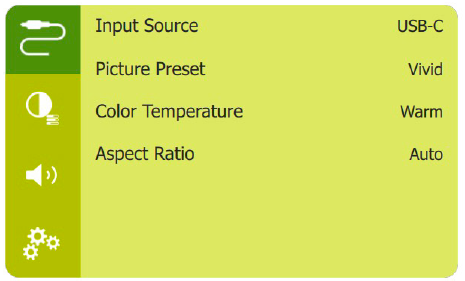 Input source selection
Go to Input Source to access the following settings:
Auto: Automatically switch to the correct input source
HDMI: Select it when an HDMI device is connected
Android TV: Select it when no HDMI device is connected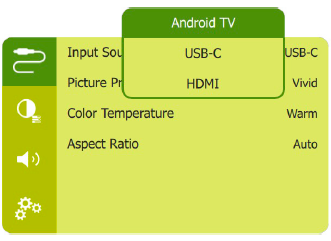 Picture Preset: Select a predefined color brightness setting for picture and video display, or select User to customize color values on brightness, contrast, saturation and sharpness

Color Temperature: Set to Warm to enhance hotter colors such as red; set to Cool to make picture bluish; set to User to customize color values in RGB mode

Aspect Ratio: Select the aspect ratio of the screen. If set to Auto, the projector will select the most suitable option.
Image options
You can access the following image setting options: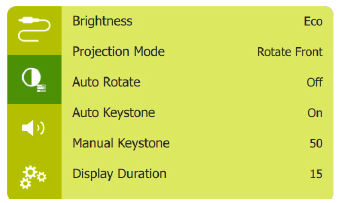 Brightness: Access the following settings

Eco: The screen is darker, but the projector uses less power
Normal: The screen is at a normal brightness with standard power use
Bright: The screen is brighter, but the projector uses more power

Projection Mode: Adjust the projection to the correct position based on different installation of the projector
Auto Rotate: Automatically rotates the screen for optimal display
Auto Keystone: Enable or disable auto correction of the image shape
Manual Keystone: Manually correct keystone or distorted images in the horizontal and vertical orientation
Display Duration: Select a timer to hide the OSD
Sound options
You can access the following sound setting options: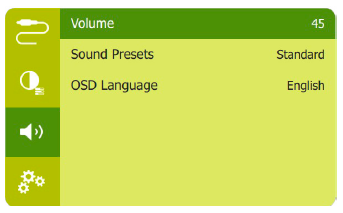 Volume: Adjust volume of the projector

Sound Presets: Select a preset sound effect or select User to manually adjust bass and treble

HDMI ARC: Switch the audio output between Internal Speaker and ARC. Select HDMI ARC if you want to output audio through HDMI connection to a digital device (e.g. home cinema system or AV receiver)
Other options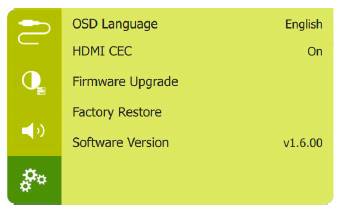 OSD Language: Select a language for on-screen menus

HDMI CEC: Enable to allow CEC control of the projector

Firmware Upgrade: Software update via a USB device

Factory Restore: Restore default settings

Software Version: Check software version of this product