To manually adjust your image quality, follow these steps:
Digital zoom
You can use the digital zoom to reduce the screen size:
Press the Projector/Input button on your remote control to access the settings options and go to Digital Zoom (see picture below)
Press the left/right navigation buttons on your remote control to adjust screen size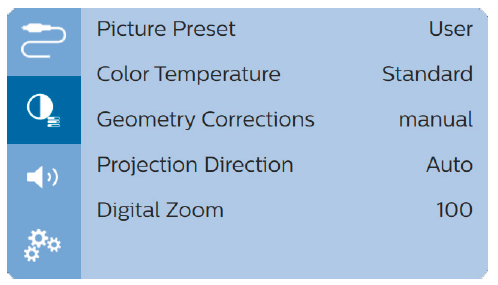 Screen height adjustment
You can adjust the screen height when placing the projector on the table
Find the height adjustment foot and the foot release slider on the bottom of the projector

To unlock the height adjustment foot, push the foot release slider in the direction of the arrow shown below and hold the slider. Then the foot will extend outwards when the bottom of the projector points downwards

Adjust the length of the foot when the foot is unlocked and extends outwards

Lock the foot when the desire screen height is reached. Simply release the slider to lock the foot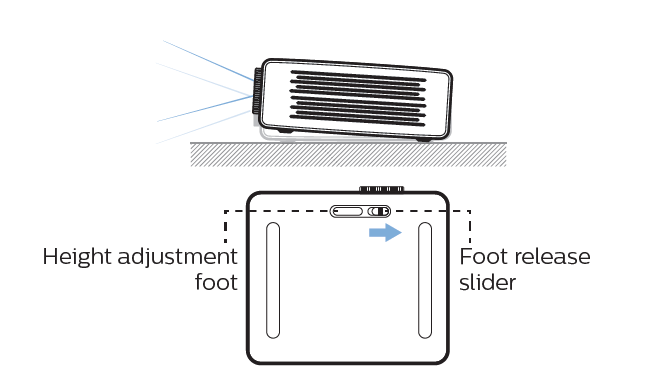 Image shape adjustment
You can use the focus knob on the front of your projector or the keystone correction.
Auto-correction:
Enable auto keystone correction to automatically correct the image to be rectangular

Press the Projector/Input button on your remote control to access the settings options and go to Geometry Corrections - Auto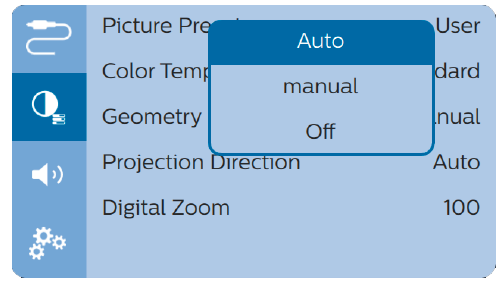 Manual correction:
You can manually correct keystone or distorted images to be rectangular

Press the Projector/Input button on your remote control to access the settings options and go to Geometry Corrections - Manual
In the image shape correction interface, press OK on your remote control to switch between horizontal and vertical correction, then press the upper/down navigation buttons on your remote control to adjust image shape